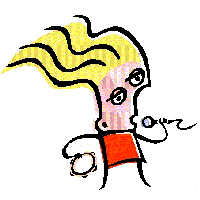 Claire Halliday - Vocals
Buy her a dry white wine and soda
Born in a barely habitable, run down hovel in darkest Gateshead, the second daughter of a drunken brewery worker and a tyrannical mother, Claire developed her singing voice by shouting for the local coalman.
With her jovial catch phrase of "You WILL do as I say", Claire has now been singing for ever and a day. She started her performing life with the internationally famous operatic troupe The Caprians, taking the lead role in many of their most impressive productions. She eventually fell out with them. She also did shows for many other society's, but eventually fell out with them. Her proudest moment's were playing the lead role at the Tyne Theatre in many of their spectacular show's but she eventually fell out with them.
Her television career was brief but memorable as she took the starring role in the Oscar nominated film "Fiverider". It was the story of a woman who against all the odds had managed to save time and money by buying a special ticket on the Metro. The critics loved it, the Tyne & Wear PTE loved it, but she eventually fell out with them and never travelled on the Metro again. Or on a bus.