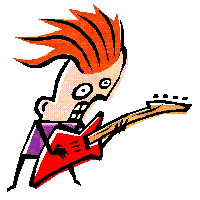 Tony Murray - Bass
Buy him a bottle of Newcastle Brown Ale
Tony has the biggest nose north of Watford. He is also the laziest man you have ever met and cannot say "Paddington".
Tony was born, the product of a bizarre human / chimpanzee experiment, a long time ago in darkest Ford Estate. He was the most stylishly dressed youth in Sunderland apart from a strange moustache which graced his upper lip for a while. He learned to play the bass guitar ( because it was easy, there was less gear to set up and you didn't need to replace the strings for up to a year ) and almost became a rock star while playing with Rega Rega.
Known as the Pallion Stallion in his younger days he is now the Penshaw Pony - married, 40, first kid in the pram. Strangely he named his son Henry, even though he has never pronounced an "H" for as long as anyone can remember.