Gigs
Barkollo - 26/02/2011
No idea what this place is like. Apparently it used to be La Toscana, so perhaps we`ll get paid in pizza and Peroni. Edit - Imagine our surprise when we did get paid in pizza and Peroni. What a fine night it turned out to be.
More ...
The Aletaster - 11/12/2010
The Zonophones triumphant return to Low Fell`s premier music venue. This will be our Christmas party, so expect a Santa hat, a sprig of holly and a vat of mulled wine.
Albert Park Summer Fair - 03/07/2010
Unfortunately, we had to cancel the festival appearance of the summer, which was a real pity cos we were really looking forward to it.
The Aletaster, 31/12/2009
New Year`s Eve at the Taster. Fantastic fun !
The Bridge Hotel, 28/11/2009
CANCELLED due to drummers going off with other bands to tour europe !
The Aletaster, 07/11/2009
Out first venture into a public bar to risk the ridicule of a crowd who`ve just wandered along to enjoy a Saturday night drink and find their senses assaulted by our racket.
Could be interesting !
The Bridge Hotel, 11/09/2009
A triumphant return to the Bridge Hotel under an assumed name to avoid any unpleasantness because Darren forgot to cancel the last one ! The Zorrophones are in town for one night only.
There wasn`t even standing room left at this one ! Coach loads of people came out of the woodwork to see us murder a few new songs and to enjoy the fine beer on offer.
Horton Grange, 29/08/2009
A wedding do ! Lord knows what`ll happen here.
More ...
The Corner House, 19/09/2008
We`re back at the Corner House for another night of hot rockin`
Coalbrookdale Museum of Iron, 09/08/2008
We`re playing at the social event of the year - Jeff`s wedding. Coalbrookdale will rock !
More ...

The Corner House, 05/10/2007
A new venue and the return of Cheese. Only 5 steps to carry the gear up made this our favourite venue ever. Unfortunately, the beer was rubbish, but this didn`t seem to put anyone off drinking as much of it as they could get hold of. Another good, fun, night.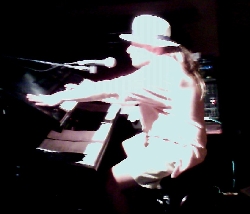 The Bridge Hotel, 10/08/2007
Unfortunately, the band will be one Cheese light this time around, but hopefully it`ll still be a runaway success with much beer drunk and not too many notes dropped.
Edit: Well, it actually went pretty well. Beer was drunk, notes were dropped, but the whole thing has to be considered a success. There were 2 sets of songs by the full band this time around, preceeded by Tim`s solo spot, which made for a full night of rock and roll excess. Well, when I say excess, it wouldn`t have made much of a impression on Pete Doherty`s radar, but at least we turned up and played in tune !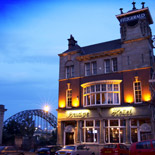 The Bridge Hotel, 16/02/2007
A rip-roaring, runaway success with the unsurpassable version of Bright Eyes, performed for the first time in front of a capacity crowd, the undoubted highlight.